Posted by Jovani Hernandez on Nov 9th 2022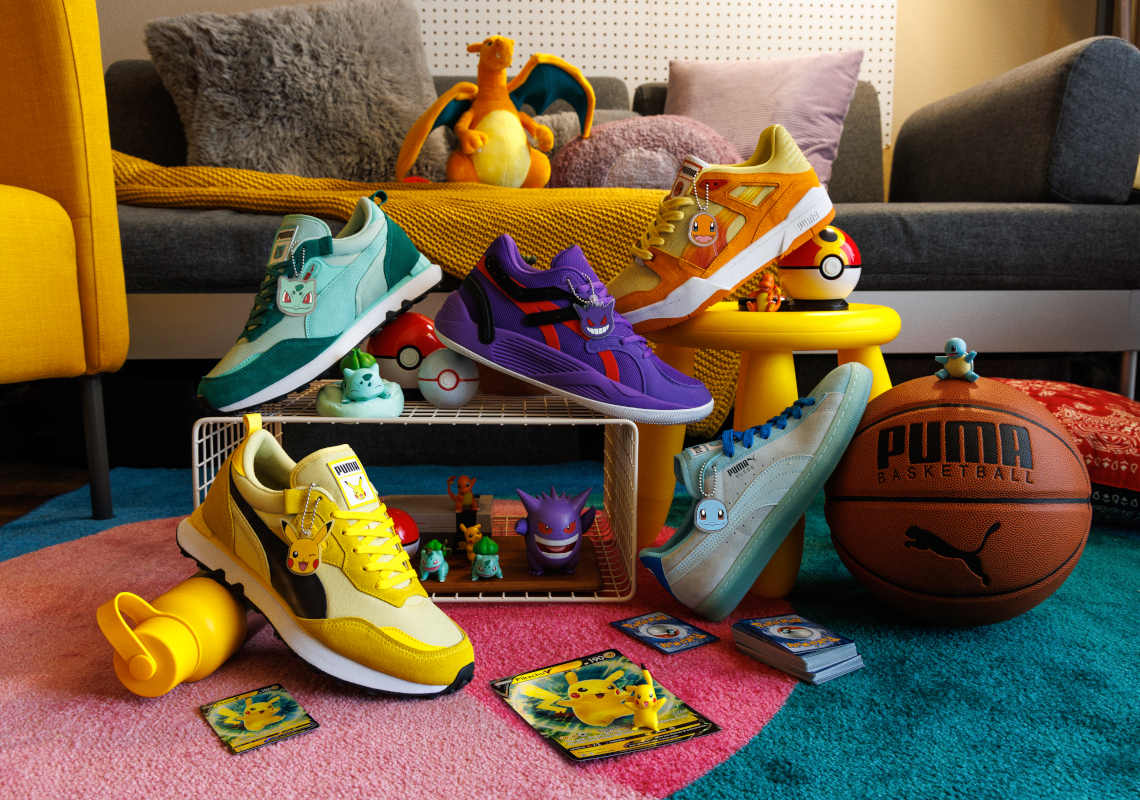 Teased in part earlier in the month, the Pokémon x PUMA collection has been officially unveiled ahead of its November 12th launch date.
The collection features apparel and footwear, with the latter taking inspiration from fan-favorite Pokémon – including Pikachu, Charmander, Squirtle and Bulbasaur. Gengar, the final form of Gastly, maneuvers his way into PUMA's first collaboration with The Pokémon Company International, appearing on a TRC Blaze Court pair. Starter Pokémon from the Kanto Region also get their own sneakers: Charmander the PUMA Slipstream; Squirtle the Suede; and Bulbasaur the Rider FV. Pikachu – arguably the face of the "Pocket Monsters" franchise – lends his image and likeness to both the RS-X and the Rider FV by PUMA. The Pikachu RS-X, however, will be available exclusively at Foot Locker and Pokémon Center alongside special clothing and accessories.
The bright yellow, bold orange, rich green and deep purple-colored Pokémon shoes are accompanied by sweatsuits, graphic tee shirts and beanies for "trainers" of all levels. Images of Blastoise and Charizard cover several tops from the historic collaboration. Symbols for the various types of Pokémon also brand some of the upcoming pieces.
Where to Buy the Pokémon x PUMA sneakers?
Enjoy a detailed look at the entire collection ahead, as you wait to choose your Pokémon x PUMA item on Saturday, November 12th, via PUMA.com, at the PUMA NYC flagship store, Foot Locker, Kid's Foot Locker and Champs, and select worldwide retailers. Pricing for the collection ranges from $30 USD to $130 USD.
While you wait to catch 'em all, you can visit 400 different Foot Locker, Champs Sports and Kid's Foot Locker stores across the U.S. through Niantic's Pokémon GO mobile game to experience Gyms and Poké Stops; the PUMA NYC Flagship store on 5th Avenue will also be converted into a special locale within Pokémon GO. Pokémon and PUMA's special in-person treat will run for the next six months, starting today, November 8th.